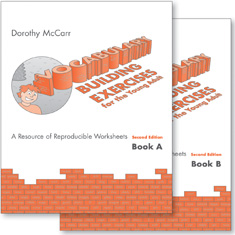 Vocabulary Building Exercises for the Young Adult — Complete Kit
OUR PRICE: C010170-$115.00
ORDERING OPTIONS:
Vocabulary Building Exercies for the Young Adult- Book A-C010170-A -$63.00
Vocabulary Building Exercies for the Young Adult-Book B- C010170-B-$63.00
A Resource of Reproducible Worksheets Vocabulary Building Exercises for the Young Adult-2 is designed for the student who needs to build useful, meaningful vocabulary to succeed in everyday living. The author has developed the lessons for teenagers and adults who are reading at below-average levels. The vocabulary words included in these reproducible worksheets were originally submitted by students, who gathered them from newspapers and magazines that are accessible to most young adults. The students encountered these words but did not understand them.
Young adults with limited reading ability gain courage and confidence when they complete the worksheet exercises and then apply more meaning to current reading materials. These workbooks are useful for students studying English as a second language (ESL), those with learning disabilities, those with hearing impairments, and those who are below average in reading.
BOOK A
Reading Grade-Level 3 (Lessons 1-9)
Reading Grade-Level 4 (Lessons 10-23)
Reading Grade-Level 5 (Lessons 24-41)
BOOK B
Reading Grade-Level 6 (Lessons 1-19)
Reading Grade-Level 7-8 (Lessons 20-39)